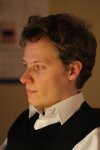 Hello and welcome to my personal website, malteschwarzkopf.de!
I am soon-to-be-finished PhD student in Computer Science at the University of Cambridge Computer Laboratory and a member of St John's College. I have a "work" website, too.
I am on Twitter and occasionally blog at Loquacious Bits. If you would like to contact me by email and want the content to stay between us, you can find my public PGP-key here.